Decorated Papers in Early Modern Islamic Manuscript Cultures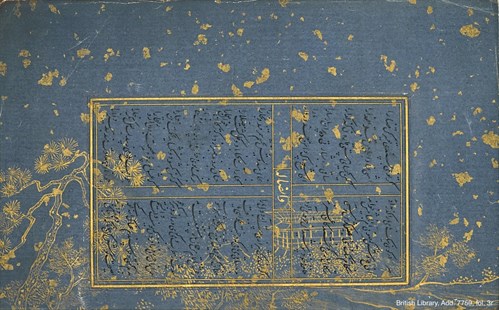 Saturday, 23 November 2019, 10.00-18.00 (Turkey Time)
Orient-Institut Istanbul
Susam Sok. No. 16, Apt. 8, Cihangir, Beyoğlu, Istanbul, Turkey

This event has sold out. Places on waiting list available; please sign up below.

About
The Islamic Manuscript Association—in partnership with the Orient-Institut Istanbul, the University of Hamburg's Centre for the Study of Manuscript Cultures, and the Thesaurus Islamicus Foundation—is pleased to announce that it will hold a one-day symposium entitled Decorated Papers in Early Modern Islamic Manuscript Cultures at the Orient-Institut Istanbul on Saturday, 23 November 2019.
The symposium will examine a diverse array of topics concerning the production, circulation, and utilization of coloured and decorated papers in early modern Islamic manuscript cultures in China, the Indian subcontinent, Greater Iran, Central Asia, the Ottoman Empire, and Europe. The ten speakers will present new research on transfer, imitation, and innovation, as well as the material applications and mobility of papers and their technologies. Their research will consider a wide range of manuscripts—including sacred texts, literature, poetry, artists' manuals, and anthologies and albums produced and consumed both by elites and commoners—and elucidate how various types of decorated papers shaped, or were shaped by, manuscript cultures both within and beyond the borders of the Islamic world and demonstrate how these technologies had a dramatic and transformative impact upon early modern societies across the globe.
Please note that some speakers will present in English and others in Turkish. Interpretation will not be available. Admission to the symposium is free of charge, but advance registration is required.

For any queries regarding the symposium or the Association, please contact admin@islamicmanuscript.org.
Register
This event is sold out, but places on the waiting list are available. Please join below.
Photography Disclaimer
Please note that photographs and/or video may be taken during this event. By participating in this event you grant the event organizers full rights to use the images resulting from the photography and/or filming, and any reproductions or adaptations of the images, for publicity or other purposes. This might include, but is not limited to, the right to use them in our publications, on our website, and in our social media. If you do not wish to be photographed please inform an event organizer.
Partners
This event is made possible with the generous support of the below organizations.